Tropicana Gardens residents celebrated the 2016 – 2017 school year at the
6th annual TrOscars superlative award ceremony! It was a time for residents to join together in the Rec Room to reflect on the year, enjoy delicious desserts, thank the Tropicana Student Organization for all the great work they've done this year, and award Trop Superlatives! Residents were nominated for superlative awards such as Cutest Couple, Trop Star, and many others!

Check out the end of the year video below and reflect on all the great times we've had together this year!
Ocean enthusiasts enjoyed sunny Santa Barbara by kayaking near the harbor! What a lovely day to relax and have fun in the sun!
One of the happiest programs of the year! Adventure seekers spent the day exploring Disneyland and California Adventure!
Residents were given the chance to take their own little clay pot and plant a plant inside it, then decorate it and take it home with them.
A festive day was had as Tropsters learned more about the Indian festival, Holi, and how it represents the departure of winter and arrival of spring. Everyone got to put on white t-shirts and given color packets so they could participate UCSB's own Holi festival!
Everyone needs to take some time for themselves. The Trop community took a break from their studies to enjoy massages, eyebrow threading, henna, facials, braiding, manicures and more!
Mandatory Closing Meeting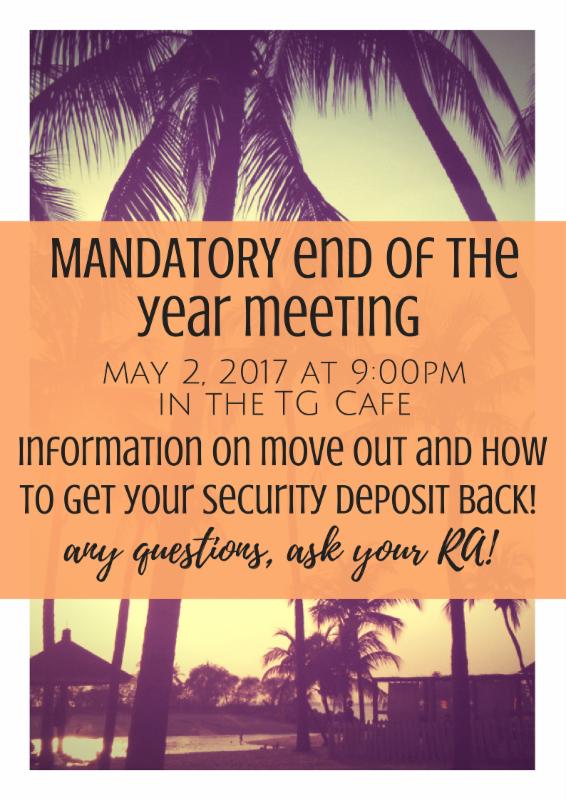 Tuesday, May 2nd @ 9:00 PM
Tropicana Gardens Café


Learn proper check out procedures and how to get your security deposit back!
DUDE I Need A Truck
is a mobile app that connects you with Dudes + Trucks + Muscles. They have trusted, trained and verified Dudes who will load, secure your stuff in their pickup truck. The app allows you to get an instant quote before committing to ordering. No fine-print, no hassle. Just incredibly good service! Use promo code "
College5
" for 5% off your next move. Visit
http://www.dudeineedatruck.com/download-dude/
to download the app.
Picture Yourself at Tropicana Villas Next Year!
Tropicana Villas, situated three blocks from UCSB, five blocks from the beach, and caters specifically to continuing students. Tropicana Villas provides independent apartment living while offering perks such as by-the-bed leasing (which alleviates individuals from being responsible for other tenants) and discounted rates at the Tropicana café, located one block away at Tropicana Gardens Residence Hall. Tropicana Villas apartments are fully furnished and the student community offers amenities such as a heated pool, on-site laundry, parking for sale, as well as access to all amenities at sister properties, Tropicana Gardens and Tropicana Del Norte, which includes 24-hour quiet study lounges, Cardio Room, Fitness Center, and a 27-seat movie theater.

Competition for IV apartment space can be fierce so it pays to plan ahead and get the apartment you want. Sign now through your MyTropAccount and save your spot for the 2017-2018 school year!
Tips to Keep Trop Healthy
1. Consider getting your flu shot: these are
offered at local pharmacies like CVS and at Student Health on UCSB Campus.

2. Remember singing the ABC song twice while washing your hands in kindergarten? Now is the time to start singing again.

3. Wash your hands frequently with soap and water (especially before you eat). Carry a bottle of hand sanitizer with you.

4. Cover your mouth and nose with a tissue if you cough or sneeze. If you don't have a tissue, sneeze into your elbow. Be conscious about not touching your eyes, nose or mouth. Don't take a sip out of someone's cup.

5. Keep a household disinfectant like Lysol or Clorox wipes on hand and use them to clean your doorknobs, remote controls, phones, keyboards etc.

6. Don't cuddle up to your BFF if they are ill! Symptoms of the flu include fever, sore throat, runny or stuffy nose, body aches, chill and fatigue. Keep your distance and show your love by running errands for them.

For more information about the flu:
http://www.cdc.gov/flu/about/season/flu-season-2016-2017.htm

For more information about the stomach flu:
http://www.cdc.gov/Features/Norovirus/
Use Your Talents to Chronicle Your Experiences at SBCC or UCSB!

Do you love blogging? Do you enjoy telling others about your experiences? If you answered "YES!" to either of these questions, we would love to hear from you! Trop is looking for a resident who will write a blog about their Tropicana, UCSB or SBCC experiences. Payment is $20 per published blog. If you are interested, please write a sample blog and send it to Brendan Langley at blangley@tropicanastudentliving.com.